Earthfire Ceramic Pizza Oven
Homemade pizza, cooked to perfection. Delicious.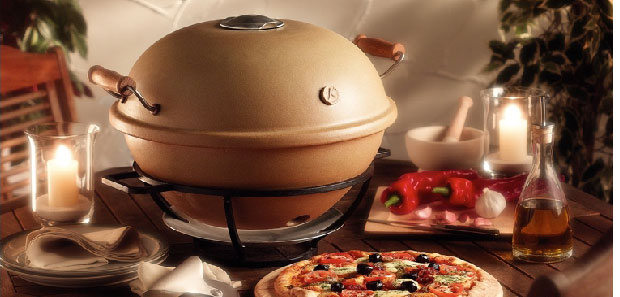 A lazy afternoon in the garden. Good friends. And freshly cooked pizza, hot from the oven.
Few things are more enjoyable.
It's made from a unique ceramic material that retains heat to create the perfect pizza
cooking temperature of over 350˚C. Using either seasoned wood or charcoal, it's ready
to cook in just half an hour and gives 2 hours of cooking time before you need to refuel
(although surely everyone will be full by then!).
Handmade in South Africa, this pizza oven is exceptional quality and, with its glazed finish, oak
handles and zinc coated steel stand, you'll love the way it looks as much as the way it cooks.
Portable, outdoor pizza oven
Unique ceramic material means the oven heats up fast to a high temperature
Porous cooking surface ensures even, perfectly crispy bases
Half hour warm up time and two hour cooking time
Also suitable for baking bread, barbecuing and smoking food
Supplied with zinc coated steel stand, easy to follow instructions, easy to make pizza recipes plus lots of handy tips
£249 not including delivery
THE AFRICAN IMBAWULA
The sophisticated way to barbecue
On the balcony or veranda, on board the yacht or at the beach. Wherever you go, take your Imbawula
with you (pronounced Im-bough-oola).
Handcrafted in Africa by local craftsmen, the Imbawula is made using a special kiln fired ceramic.
The unique design, handed down from generation to generation, creates an efficient barbecue which
uses less fuel, gives a hotter fire and is easier to clean.
To make your Imbawula even more practical, it's supplied with a sturdy stand. The cooking
grill is stainless steel, which makes it easier to clean and longer lasting and we supply a
black iron wok to give you even more culinary options. The wok can be used for stir frying
or as a lid for roasting, smoking or keeping food warm.
This portable and versatile barbecue not only cooks to perfection, it also makes an attractive
centrepiece. Available in vibrant 'Earth' and rich 'Ocean', the glazed finish is simply beautiful.
As each is hand crafted, the colours will vary on each piece, making them individual works of art.
The Imbawula is a wonderfully sociable way to cook and entertain. Just make sure your friends
don't sneak off with it; make them order their own!
Handmade African portable barbecue
Unique design creates a hotter fire using less fuel
Supplied with sturdy zinc coated steel stand and stainless steel cooking grill
Black iron wok can be used for stir frying or as a lid
Available in a choice of two colours
£75 0ffer price not including delivery