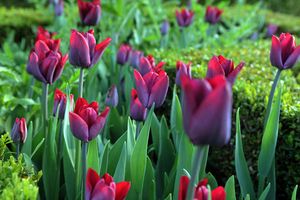 Bulb planting time is upon us, so now is the time to but while there is a great selection.
Try something different this year, be bold with brighter and more interesting colours. There are such an amazingly large range of tulips in different shapes, sizes and colours so there's a variety just right for your yard.
The image shows the sumptuous purple flowered Tulip 'Greuze'. It mixes well with other purples and pinks but why not mix it with bright reds or clashing orange. It's a late season tulip reaching 55cm in height.
Available from www.crocus.co.uk   5 bulbs for £3.99 or 15 for £7.98