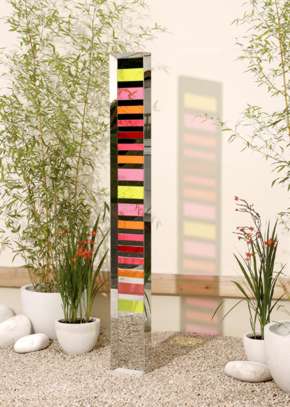 Spectra Sculpture
'Contemporary garden sculpture designed to bring colour, light and life to your outdoor space - they will lift your spirits on even the dullest of days. The sculptures in this unique range make a striking centrepierce in a modern garden scheme.
Manufactured from mirror polished stainless steel and transparent coloured acrylic, these garden sculpture form a bright shining focus of colour. they work particulary well in gardens with alot of hard landscaping or very restrained planting, and are wonderful in Winter when all else in the garden is bleak and colourless. When the sun shines, they appear lit up from inside and cast brilliant shadows along the ground.
They are easy to install, being anchored in place with stakes(supplied) which are driven through holes in the baseplate on which they stand. They can be also fixed to decking or paving by using screws or bolts with the baseplate instead of stakes.
Manufactured to very exacting standards, they are fully guaranteed.' www.iotagarden.com