A super range of Easy Grow polypropylene planters that are very hard wearing and durable as well as being great FUN.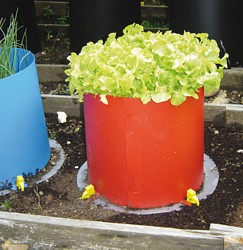 Polypropylene is enviromentally friendly as it can be recycled. The range includes these kitchen garden planters in a great range of bright colours - red, blue, green, yellow and grey.
A minimalistic looking Spud Tub and Strawberry Tub in 'metallic' grey will both give great crops with a different look. All the Easy Grow planters can be washed at the end of the year and rolled up for storage. The Strawberry tub can also be used for herbs and even bedding plants.
The strangest item in the range is the 'rocket' shaped Rhubarb Forcer in bright green, that will produce early crops with a superb flavour. www.founders-horticultural.co.uk