dutchtub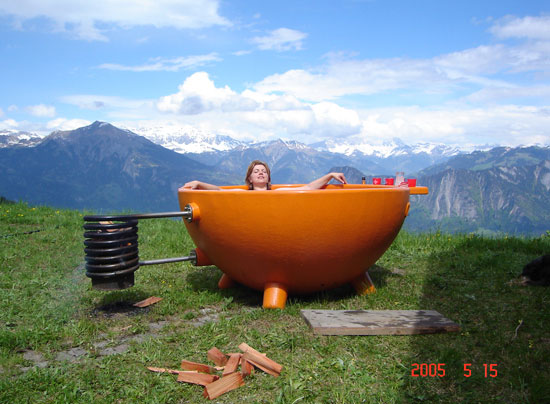 dutchtub - boundless bathing

dutchtub reflects a most refreshing input to the worldwide outdoor-bathing culture;
It's a natural wood-fired hot tub with a modern flair in a gorgeous, functional and bizarre simple design.

With its fast natural heating system and its low weight one can easily take the dutchtub to any place you like and use it as long there is water and wood. The extremely durable materials reflect its high quality.
It's a hygienic and therapeutic product with a high fun-factor.

The dutchtub is a reaction to a society where questions have arisen about lifestyles and about products that are independent and self-supplying. More and more people are turning towards the use of products with simple functions and responsible design. The dutchtub is not a question of luxury but of the quality of the function. Thus the dutchtub frames the essence of open-air-baths-tubs and embodies a decadent function brought back to a temperate luxury. The main goal of dutchtub is to inspire people to go out and experience 'boundless bathing'.

And this is how it works: After the tub has been filled with water, the fire is started in the basket which has been screwed in the spiral. The water inside the spiral heats up from the heat of the fire. The water gets hot and starts to rise in the spiral. Like this the water will flow automatically through the spiral, circulating from the bottom to the top. The natural heating system will easily heat the 700 litres of cold water in just two-and-a-half hours up to a comfortable 37°C all while cooking you meal in the included custom wok. After reaching the right temperature, one can maintain this temperature through adjusting the basket in the spiral, which determines how much flame is reaching the spiral.

dutchtub is not just a hot tub, it's a state of mind.