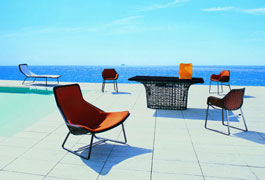 "Designed by Patricia Urquiola for Kettal, the Maia collection is "an industrial reinterpretation of handcrafted plaiting". The collection moves away from archetypal plaited furniture through the use of new contemporary geometry. The furniture gains in lightness and modernity by combining high-tech fibre and a broad aluminium structure. It also has an interesting shadow!

Originally from Spain, Patricia Urquiola trained in Italy and is considered one of the most active designers of the new generation. She has been awarded prizes by great international design associations (New York MOMA USA, AFI-FAD Spain, Wallpaper international magazine). Patricia Urquiola currently designs for the best companies on the international furniture scene.

Frame made out of aluminium, polyester powder coated and high quality synthetic fibre hand weaved. Frame completely outdoors. Cushion made out of 3D thermo melted textile for an easy maintenance."
www.kettalgroup.com