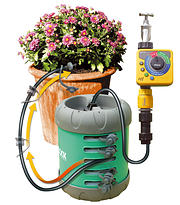 THE HOZELOCK AQUAPOD
The Aquapod was released last year but the wet summer meant that there were few sales and the product stayed on the shelf. It is though a great idea, and perfect for the smallest of small gardens where containers rule.
Holiday watering a problem? Concerned about metered water and wastage? Very busy or a little forgetful? This new Aquapod automatic irrigation system from Hozelock uses up to 90% less water than traditional handheld watering methods and allows you to programme a watering schedule if you are busy or when you are away on holiday.

Ideal for patio containers, Aquapod blends in harmoniously and is quick and easy to install.
The kit can water up to 10 plant pots at a time by fitting a special attachment to one tap or standpipe with the water pressure reduced to 4 litres per hour. It is equipped with hoses and at the end of each one is a self-cleaning pressure regulating dripper. Each hose can be pulled out and rewound independently to suit the layout of the patio to give maximum flexibility.
The Aquapod is available at most garden centres or on line.