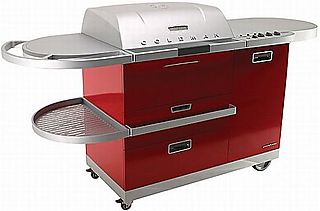 The Coleman Diamento designed by Pininfarina
This is the ultimate in bbq styling. Designed by famous Italian stylists Pininfarina it embodies all that you would require in a top of the range bbq. You really would need nothing else in your yard - except a chair to sit and drool over this amazing cooking machine. They are not cheap at just over £2000 but what the hell - sell your car or your mother-in-law this is something that would make even your worst day worth living.
It is available in three colour ways - varnish red, varnish blue and varnish grey and has an amazing array of accessories, including a deep fat fryer to do your fries, that clip onto the main body.