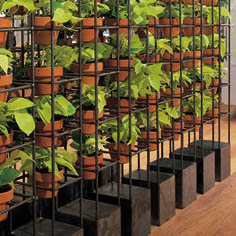 Vertical Garden by Joost Bakker
Joost Bakker is a sculpter who uses a wide range of materials from leaves & flowers to discarded objects.
"Vertical Garden is a sculptural almost architectual form, allowing leaf and flower to inhabit spaces, to create spaces, with a natural raw beauty"
What a great idea as a simple yard divider that would allow light through yet create an amazing green wall. Could become a salad machine if planted with salad leaves, salad onions, Tumbler tomatoes and herbs.