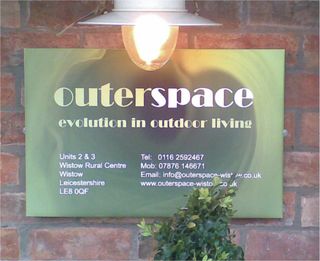 Whilst spending the weekend in Leicester I visited the Wistow Rural Centre which is just outside the city in the beautiful Leicestershire countryside. It is composed of small retail units grouped around a small plant centre in an old walled garden.
The surprise of my visit was finding in one of the retail units 'Outerspace' a company that retails cutting edge products for outdoor living.
Their product range includes oil torches, gel burners, bird boxes, climate instruments and clocks, lighting for inside and out, utility items, metal signs, water features, sculpture, outdoor art, mirrors and gardening accessories.
Outerspacealso stock a contemporary collection of stainless steel water features that are easy to install.
One of the main finds was their range of outdoor art that is produced exclusively for them.  All of their outdoor art is laminated for extra protection against the elements. They have successfully been laboratory tested for water resistance and light fastness & can stay outside all year round. They would look fantastic attached to a fence or wall adding another dimension to your garden. They are also, I understand, perfect for areas of high humidity such as bathrooms & conservatories.
Outserspace have a great website where everything can be ordered online but I would recommend a drive out to this little jewel in the countryside.