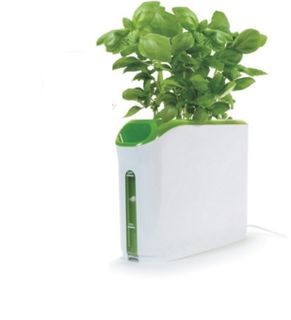 The Power Plant is a great indoor soiless gardening system that enables you to grow herbs, salads etc. indoors all the year round.
Plants are not grown in soil instead a nutrient rich solution is sprayed directly onto their root system which allows the plants to grow more efficiently than seeking those nutrients in soil.
It works on any type of seed, fits on a windowsill and only takes minutes to set up. It also looks very stylish.
www.oakthrift.com  from around £15 
It's just a pity that nobody has designed a larger version for using on balconies, patios,etc to grow salad crops through out the year.