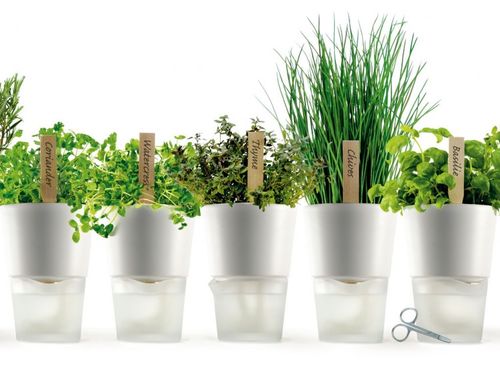 Self watering pots for windowsills or on the patio tend to be rather functional in design. These from www.madeindesign.co.uk are far more stylish and interesting.
'In nature, plants draw up the water they need through their roots when they need it. The same principle is behind this functional and self-watering flowerpot which consists of two parts. On top a ceramic flowerpot, and beneath it a glass container, which functions as a water reservoir. Water is drawn up through nylon threads which hang down from the bottom of the pot, like extensions of the plant's roots. The Eva Solo flowerpot has been made to extend and improve the life of your house plants and indoor herbs. Just glance at the water level in the vase, and you will know immediately if the plant is thirsty... The vase reservoir can hold enough water for the plant to only need watering once a week, and possibly less frequently, depending on the circumstances.'
Available in white or anthracite and in two sizes.