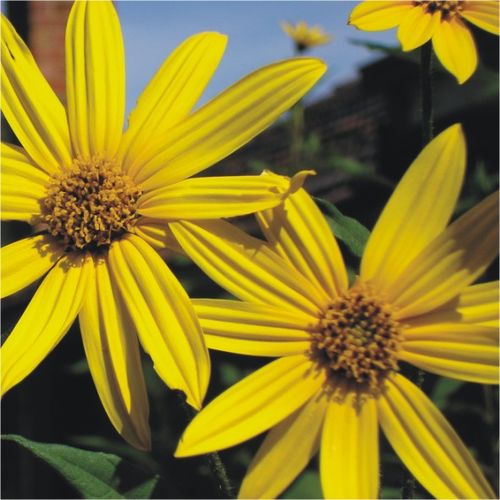 JERUSALEM ARTICHOKE
Jerusalem artichokes make a great decorative screen or just an architectural feature in the smaller garden. Planted in spring, the tubers that look like knobbly potatoes soon grow into tall stems of fresh green foliage. In late summer and autumn these stems produce bright yellow daisy like flowers, a welcome bonus at that time of year. Mine this reached almost eight feet high and survived the winds of North Devon.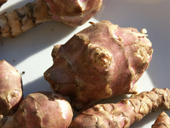 The bonus of all this growth is what has been going on underground! The plants produce large quantities of new tubers in the same way that potatoes do. Dig them up at the end of autumn and dry the tubers out and store in a cool dark place.
'Jerusalem artichokes are very rich in inulin, a carbohydrate linked with good intestinal health due to its prebiotic (bacteria promoting) properties. These health benefits come at a price; the food can have a potent wind-producing effect.
Jerusalem artichokes also contain vitamin C, phosphorus and potassium and are a very good source of iron.
Cook as you would potatoes - roast, sauté, bake, boil or steam. If peeling or cutting, drop pieces into water with a squeeze of lemon juice to prevent discolouration. Unlike potatoes, Jerusalem artichoke can also be used raw (e.g. in salads) or lightly stir-fried.'
One of the best ways to use artichokes is combining them in soups with other things.
Serves 6 - 8 people
700 g (1&1/2 lb) Jerusalem artichokes
3 celery stalks, chopped
450 g (1 lb) carrots
1 medium onion, chopped
75 g (3 oz) butter
1.5 L (3 pints) light stock
salt and freshly ground pepper
Peel and slice artichokes then put them into a bowl of cold water to prevent them from discolouring. Peel and slice the carrots. Melt the butter in a cooking pot and soften the onion and celery for 5 minutes, then stir in the carrots and artichokes. Add some salt and put the lid on and let the vegetables sweat for 10 minutes on a low heat. Then pour in the stock, stir well, put the lid back on and simmer for a further 20 minutes or until the vegetables are soft. Then liquidise the soup. Taste to check the seasoning, re-heat and serve.
Recipe from www.abelandcole.co.uk