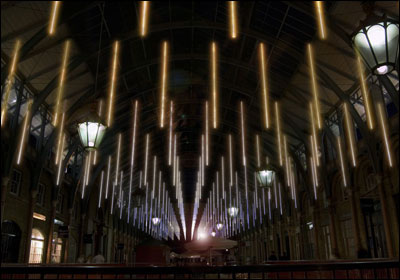 'Earlier this year, UVA won a commission to create a spectacular seasonal light display inside Covent Garden market. The results will be switched on later this month.
Shoppers will see 578 tubes suspended four metres above ground from the roof of the market building. Each 2m-long tube will contain a strip of 80 energy-efficient LEDs, each of which can be controlled by a computer. These will be programmed to create complex, colourful patterns of light that should ripple across the grid of tubes and mesmerise passers-by.'
This type of lighting is now available for domestic use including the 'Snowfall' from www.FDL.eu  These are LED tubes that give a realistic snowfall effect. Just checkout the website video.