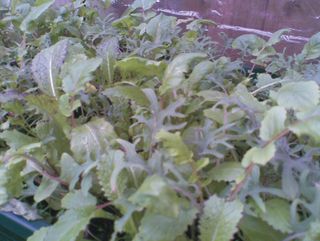 Despite temperatures down to -8 my salad leaves have survived unscathed with only the protection of a basic polythene grow house.
Seed was sown in early winter with the hope that I could start cropping by Christmas but the low temperatures have delayed this. I sowed a mixture of salad greens in a basic multipurpose compost in extra large seed trays. The grow house is positioned handy for the back door so it is quick and easy to just cut when required.
I will be sowing another tray this week which should be ready for cropping when the present one has finished. It is simple and very cost effective when you consider the price of supermarket pre-packed salad.