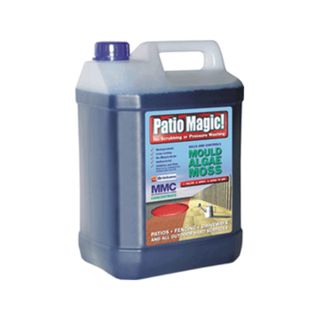 The snow has melted, the rain has disappeared for a short while but both has left the decks, walls and patio green with algae. The decks are not only unsightly but also slippy and dangerous.
There are many products and ways to clean these areas but the best I have found is Brintons Patio Magic. It doesn't smell ,is easy and safe to use and the results last a long time. You can spray it on with a garden sprayer but a find splashing it around with a watering can works best!
No Pressure Washing, No Scrubbing, No Sweat
Unique new generation high performance antibacterial fungicide which kills mould, algae and moss with in days and then helps to clean the treated surfaces in the following weeks and months.
Just dilute and apply with watering can or low pressure garden sprayer
2.5L Concentrate (Makes up to 25L)
Perfect for Patios, Garden Furniture and Conservatories
It is available at garden centre and DIY stores. £9.99 2.5l