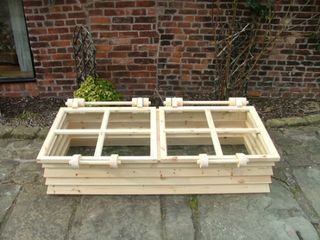 Coldframes are generally not the most picturesque garden item and especially not the type of thing you would want in a small yard. Many are made from aluminium with glass or polycarbonate, all very functional but not very stylish.
These coldframes from www.lichfieldplanters.com are chunky and bold with great over sized handles and hinges. They are made from solid Scandinavian pine or Cedar. Prices start from £259.00 for the double frame and £159.00 for the single.
Coldframes are perfect for growing more tender veg in the summer such as melons and for growing salads over winter.