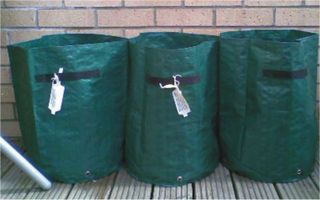 The seed potatoes have finally been put to bed in their bags, having been 'chitted' (allowed to sprout from the 'eyes') on a convenient bedroom windowsill.
I have planted them in Westland Organic Vegetable Compost (www.gardenhealth.com)  which I've not used before but this year has been selling well in garden centres due to the massive interest in growing vegetables in containers. The potatoes have been set in 4"/10cm of compost, more will be added as the potatoes grow until the bags are full.
The potato varieties I am growing this year are:
Charlotte - A very popular salad variety producing pear shaped yellow skinned waxy tubers Great flavour hot or cold.
Red Duke of York - A great general purpose potato with moist yellow flesh and a great flavour.
Vivaldi - No. 1 for taste. Great all rounder that produces high yields of baby potatoes as an early crop.