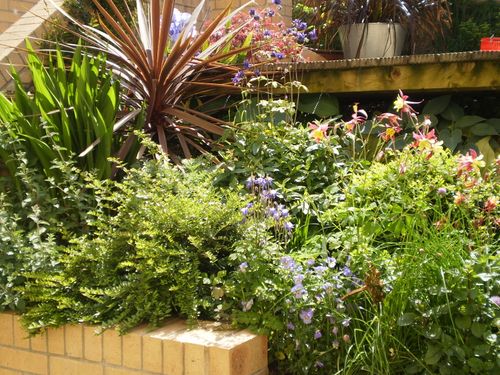 Our small yard garden is now three years old. We started with a blank canvas as the house was on a new green field site in rural Devon. The plot is small, south facing, on a heavy soil and slopes steeply towards the house.
In those three years we have worked to create a plot that gives us somewhere to sit, relax and entertain as well as planting that gives us twelve months of interest and also a certain amount of food in the form of salads.
Birds now visit our garden to feed and then bath in the clear water of the rill. We have bats flittering over the garden at night in search of the insects that hover over the lush foliage.
Sadly our neighbours have plots in the state they were when the builders moved out. A square of grass or gravel and maybe an odd shrub or two. No trees even when offered by the builders are planted in these barren plots. I can understand that they are not interested in traditional gardening or do not have the time to improve their plots but what a waste. A waste in enlivening their lifestyle by not using this available space when there is so much information around to help and garden furniture, plants and accessories to excite.