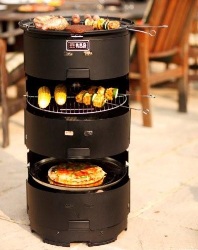 For those of us with little outdoor space the BBQ Tower from www.bbqtower.co.uk , is the answer to the problem of having maximum cooking space with the minimum of floor space.
'The unique design of the BBQ TOWER™ also means that minimum floor space is required, making it an ideal choice for even the smallest gardens or patios.  The stylish design is surely set to make the BBQ TOWER the centre of any barbecue party, meaning that even the chef can join in the fun. There are no complicated assembly instructions to follow, simply screw on the handles and the BBQ TOWER™ is ready to use.
The revolutionary new design from BBQ TOWER™ features three different cooking levels - meaning three times as much food can be cooked in one go, therefore making for a quicker and more relaxed al fresco dining experience.  The BBQ TOWER's lower levels are ideal for cooking pizzas thanks to the Pizzatier® cooking system, where the surrounding warmth of the inner cooking levels and heat from above ensures a crispy base for that authentic charcoal grilled pizza taste. 
Each cooking level is interchangeable, including traditional grills and perforated cooking trays.  Additionally, each level can be heated independently using traditional barbecue charcoal meaning you only heat what is needed and retain that classic barbecue flavour.'
Use one, two or three levels for maximum flexibility and success.
BBQ TOWER™ top level grill – hot air rises, so the combined heat of the three layers gives you greater sizzle–power for your top level

BBQ TOWER™ middle grill – for meats or vegetables that need a bit more cooking time

BBQ TOWER™ bottom grill – use the unique Pizzatier® cooking system, ideal for pizzas which benefit from the surrounding warmth (like an oven) as well as the grill heat for a crispy base. The BBQ TOWER™ pizza experience is a must