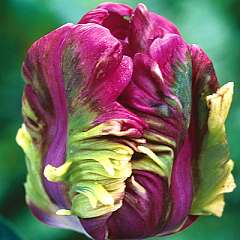 Why stick to the standard reds and yellows when choosing and planting tulips? There are such a variety of more unusual forms and colours.
The above is Tulip Rai which has deep violet frilled, ruffled and flared petal that are splashed with contrasting light yellowish green accents. They are available from www.thompson-morgan.com at 10 for £8.99. A companion tulip would be Tulip Exotic Emperor which has double white flowers that are streaked with vibrant dark and lime green on the outside. (available from www.hayloftplants.co.uk)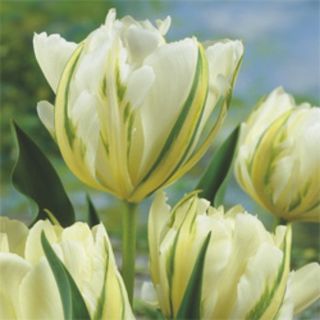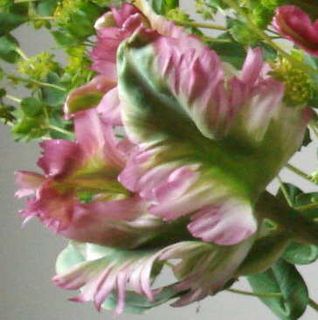 Some of the showiest Tulips around, Parrot Green Wave has strikingly beautiful pink & white ruffled flowers flamed with green. Dazzling & different this unusual May flowering tulip has immense flowers.
http://www.gardenoasis.co.uk  10 for £8.95
To contast against some of these colours and link with the underlying lime green found in these tulips try planting them in containers with the Trailing gold Creeping Jenny, Lysimachia nummularia Aurea, that has lime green foliage in spring and the early flowering Euphorbia Polychroma, that has wonderful acid yellowy green flowers in early spring.