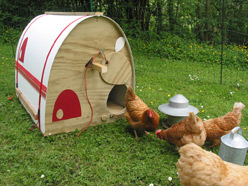 A sad tale that might now have a happy ending!
Richards hens came to an untimely end one night when the fox visited and the coop security was not up to scratch! But now he's going to start again. I think I've found just what he needs.
The Eggpod from www.eggpod.net is a new design of chicken housing using traditional timber construction with a lightweight and weatherproof recyclable plastic shell. The practical layout caters for up to 8 chickens and is light to move and easy to keep clean. Made in rural Devon near Axminster, the Eggpod is supplied flat packed yet is easy to put together - perfect for Richard.