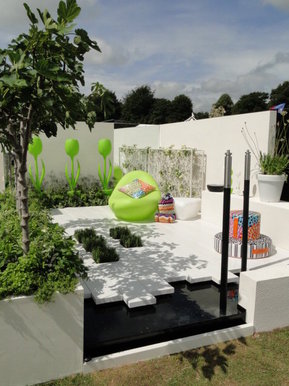 Ceri Morgan designed this garden for www.outdoorchic.co.uk at the Tatton Park Flower Show last month. The design created a contemporary garden with low maintenance requirements, minimal materials and planting and a limited colour palette.The organically shaped sunlounger in lime green,from www.outdoorchic.co.uk , completed the design.
Just love the tulips! These are also from www.outdoorchic.co.uk and are available in a choice of colours and they also light up at night.
Those of us with small spaces can learn from this design. Especially the minimal use of colours and the careful restriction of types and varieties in the hard and soft landscaping. It is so easy to overload your yard with too many plants and too many different materials. Some designers believe that about 70% of planting should be of one variety to unify a small area.