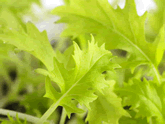 Microgreens are all the rage with celebrity chefs as a decorative topping for their creations.
They have more flavour than mature greens, are packed with nutrients and are ready to harvest in days.
'Microgreens or micro leaves are vegetable seedlings harvested between 6 and 21 days old for their intense taste.  Microgreens can be grown all year round, all you need is a windowsill. Obviously during the winter months when there is not as much light as in the summer months, growing times may be little longer, but not much longer.
'
Microgreens can be grown is the same manner as growing leafgreens but the are harvested at a much younger stage. You can buy seeds for this but the easiest way is to buy a prepared kit from sites such as www.themasterherbalist.co.uk.
   
Varieties include amaranth, red basil, celery, tatsoi, mizuma and purple broccoli and are all £2.92 a pot.