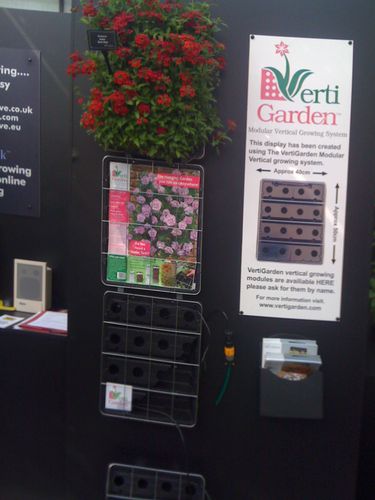 Further on in my travels this week I found Ball Colgraves Verti-Garden at the Four Oaks Trade Show in Cheshire.
The Verti-Garden allows you to plant your own 'Living wall' using a very simple system.
'Vertical gardening has never been easier with the VertiGarden modular system.
Each VertiGarden panel takes 16 plants and can be planted with young plants and grown on horizontal until plants are established, or plant with Pack or Pot bedding and hang immediately.
Each 0.2 square metre panel has it's own built-in irrigation which can be connected to a drip field irrigation system, or a slow feed header tank.
Additional panels can be hung one under another and the irrigation simply connected between them.
grow one VertiGarden panel in place of a hanging basket, grow two or more for a unique, imaginative display.'
Verti-Garden should be available in some garden centres and I'm sure will become more popular in the future. It will be great for growing a vertical veg garden in restricted places.