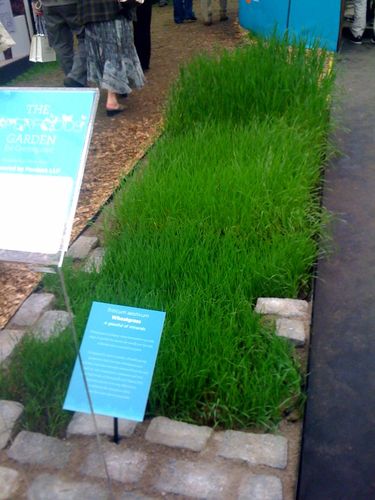 'A glassfull of minerals' Chelsea Flower Show May 2010
I'm not a juice buff but I understand that wheatgrass is the top health giving juice ingredient. You see wheatgrass in juice bars in small trays in which they have been sown and the forced under artificial light. You can buy the grass in these trays ready grown and even by frozen wheatgrass ready to use. 
There is another way though. Grow the grass outside as an attractive alternative to a lawn, in a windowbox or hanging basket or just as a feature. Wheatgrass grown in the open is meant to be better for you with less simple sugars and carbohydrate and also less risk of mildew.
So instead of mowing the lawn being a chore - just snip a bit every morning for your heathy wheatgrass drink!